Before we left on our road trip across Australia, from Perth to Sydney, Jaime Leigh and I did a photo shoot for West Australian clothing label Gospel Fashion with Carla as our model.
My original plan was to get out in to the dunes at Lancelin but the weather was so bad we ended up doing a very stealth mission in to an abandoned Power Station near Fremantle.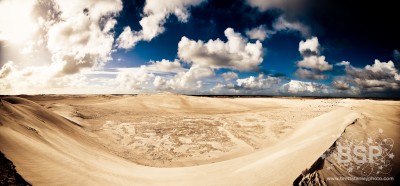 Lancelin Dunes
The power station.
It was a stealth mission because the place is surrounded by huge barbed wire fences and supposedly guarded by dogs who can sniff a photographer's fear from miles away. We ended up parking the Camper-van down a side road and finding a hole in the fence to climb through. This was not made any easier by the rain and  the fact that I had brought a mini-tramp along. Although i guess we could have tried bouncing over…
Anyhoo, inside was amazing. This place had been gutted so it was a huge open concrete building with some amazing floor to ceiling windows. There was some awesome graffiti in there too but the funny thing was that the most adventurous ones, who had risked death and climbed girders to get to the prized space towards the roof, were also rather stumped for a good tag and I'm assuming the short, sharp word they all seemed to write was not an indication of how they got down…
Unfortunately it was also freezing cold and blowing a gale so we had to find a room to shelter in.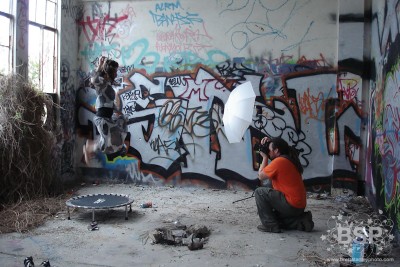 Warming Carla up on the mini-tramp.
After a couple of hours in there and a few clothing changes (Jaime Leigh was not just our Hair & Make-up stylist but also changing room assistant and costume stylist!) , Carla was frozen to the bone and we headed back out the hole in the fence. It's was a great afternoon and we were all looking forward to hot showers.
For more information about our fashion shoots please follow one of the links below: