Underwater Portrait Photography Workshop
Long Beach, California
5-7 AUGUST 2022
---
Featuring Professional Underwater Models
Hannah Mermaid & Merman Jax!
---
Are you an underwater portrait photographer looking to hone your skills, or maybe a land photographer looking to move into underwater?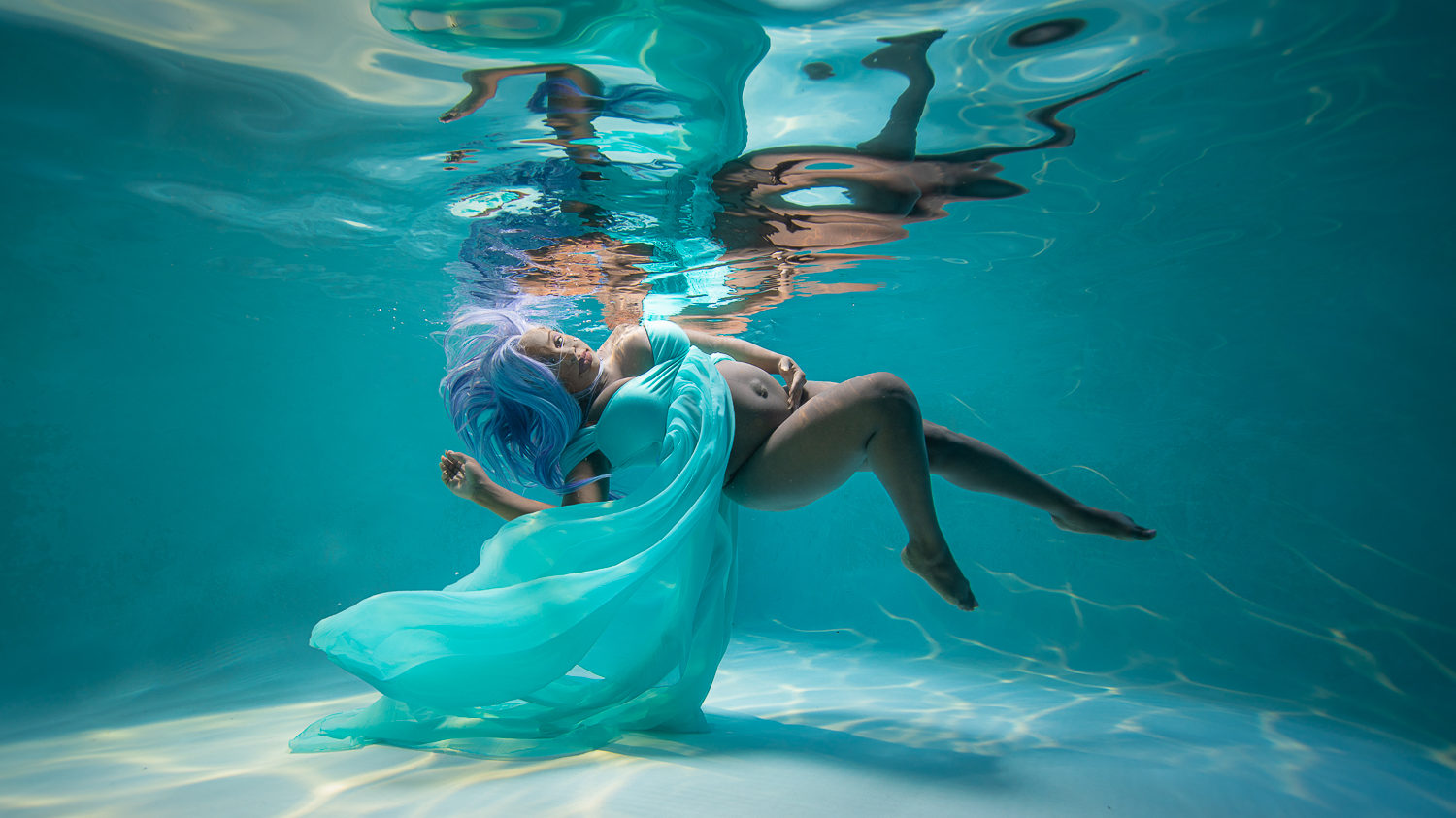 The Underwater Studio Photography Workshops will help you to learn and up-skill in this amazingly creative niche genre.
What is Underwater Studio Photography?
---
Underwater studio photography is the process of treating a swimming pool like a photography studio and creating work like you would in a dry studio, but utilising all the amazing traits that water can provide. It's an approach that creates a mindset which looks at all aspects of the pool as potential backdrops for the photoshoot.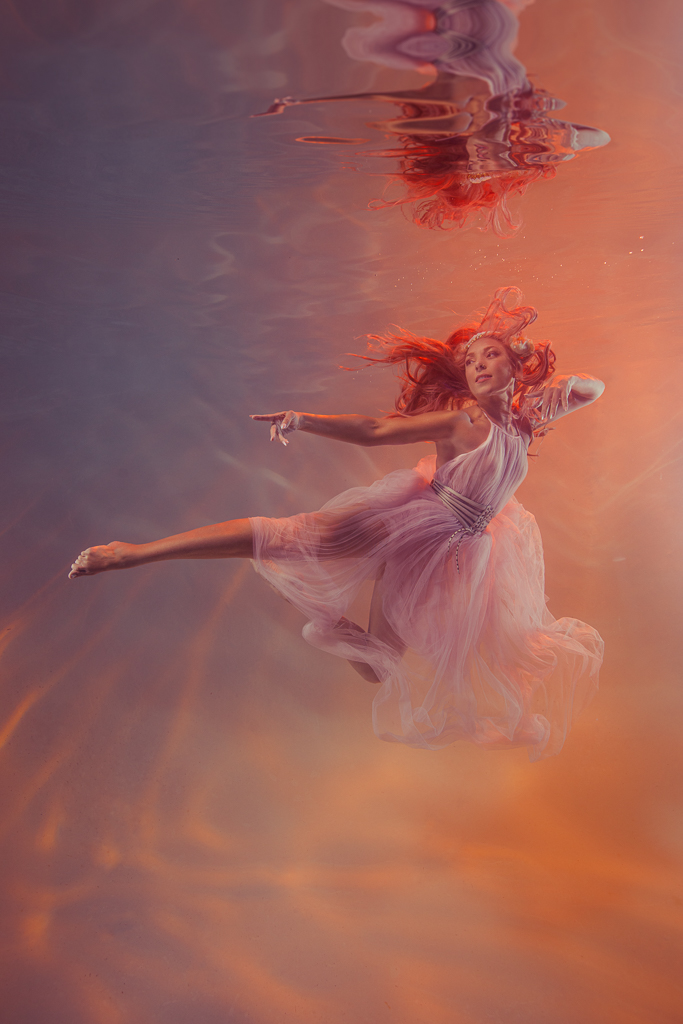 The Schedule
---
To make the most of your time I've broken the workshop down in to 3 Days/Sections: Underwater Photography Techniques, Studio Lighting, and Retouch/Post-production .
You're welcome to book one or all sections of the workshop, but I would recommend all if you wanted to get the full impact of this course.
All days are 10am – 6pm, with an hour lunch break.
Class numbers are limited to 4 people per day, so that everyone gets a decent amount of attention and time with the models during the workshop.
Day 1 – Underwater Photography Techniques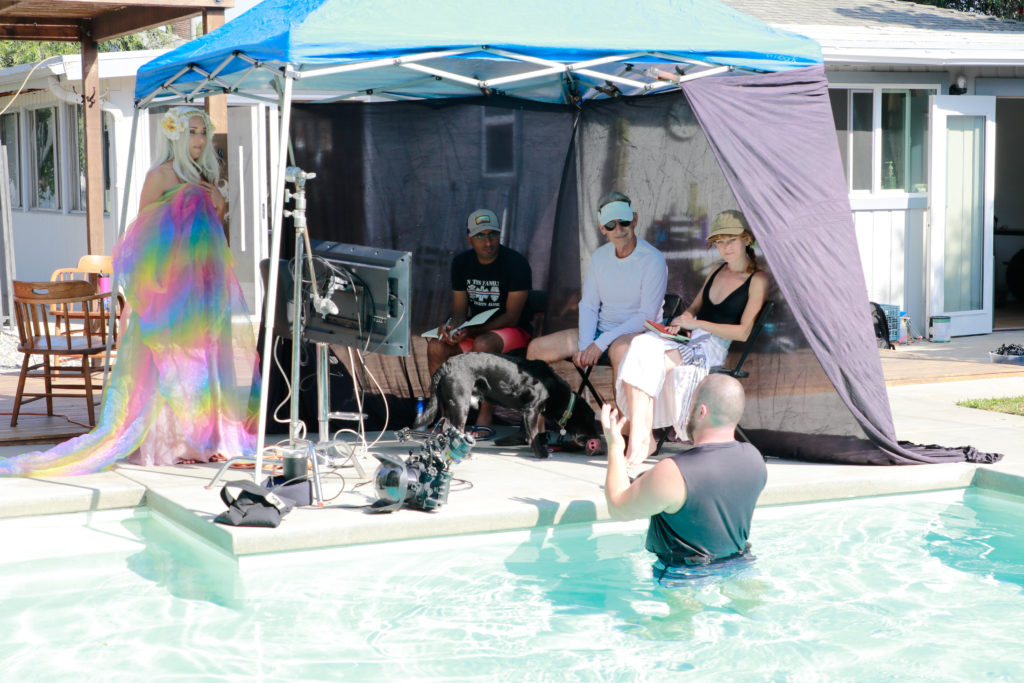 On our first day we will be covering beginner topics, starting from scratch for anyone that might be new to underwater portrait photography or someone who wants to refresher/learn a different technique. This will be a hands on day with lots of theory, including shooting with our models – one of which will be new to this so you can learn how to direct inexperienced subjects.
Types of gear/uses
Gear maintenance
Terminology
Camera settings
Lens choices
Basic underwater physics
Shoot safety/common dangers
Breath-hold techniques
Staying steady underwater
Fabric/wardrobe choices
Shooting with backgrounds
Working with Natural light – Overview
Working with Artificial light – Overview
Open water vs closed water shooting
Working with models (2 models & 2 outfits each)
Dealing with unpredictability (Chaos Theory)
Pool care and best practices
Post shoot tasks
Day 2 – Studio Lighting Techniques
Next we will be taking everything we learned on Day 1 and turning it up a notch with lighting and more creative techniques. This is where I show you the lighting secrets I've cultivated and honed over the last 8 years shooting underwater – and give you the techniques to create your own lighting style!
We will have two very experienced underwater models on the day with a variety of outfits, and a variety of lighting styles to learn.
Posing and performance coaching (2 models & 2 outfits each)
Strobes vs natural light
Strobes vs video lights
Lighting gear choices
Underwater light physics
Triggering strobes
"Dry" Strobes
"Wet" Strobes
On Camera strobes
Lighting only from above
Lighting only from underwater
Mixing light sources
Using Coloured Gels
Shaping light
Special effects
Day 3 – Retouching & Post Production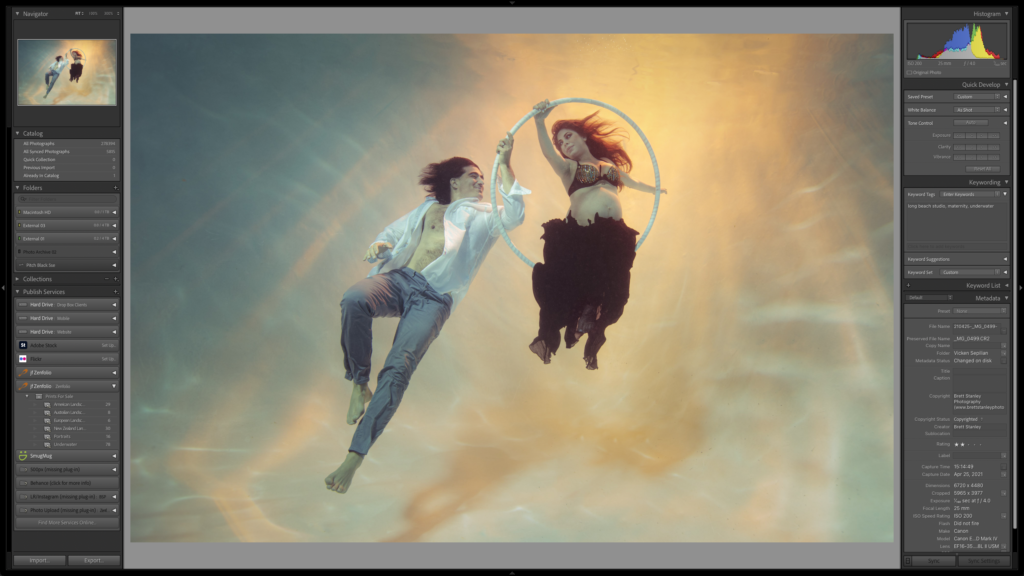 After all this image taking, we now move on to the final creative step – post production. This day will be dedicated to polishing and crafting the images we took over the weekend, or images you've taken previously, in both Lightroom and Photoshop. We will be working on your images, so you can see how this affects your style and workflow.
Reviewing images
Importing
Cleaning up
Removing pool tiles
Dealing with backscatter
Skin tones
Cut off limbs
Poor water quality
Fixing reflections
Realistic compositing
Colour grading
Exporting
Dealing with hair
Adding light sources
Lightroom & Photoshop
---
What To Bring
Camera, cards, batteries, and underwater housing with sync port (Optional, as we can provide a shared camera/housing if needed)
Swimwear/Towels
Mask
Weightbelt (Optional)
Sunscreen
Hat
Summer footwear
What's Included
Lunch, snacks, and drinks each day
Most equipment (see "what to to bring")
2 models, outfits, makeup (days 1 & 2)
What's Not Included
Transportation or airfare
Accommodation
---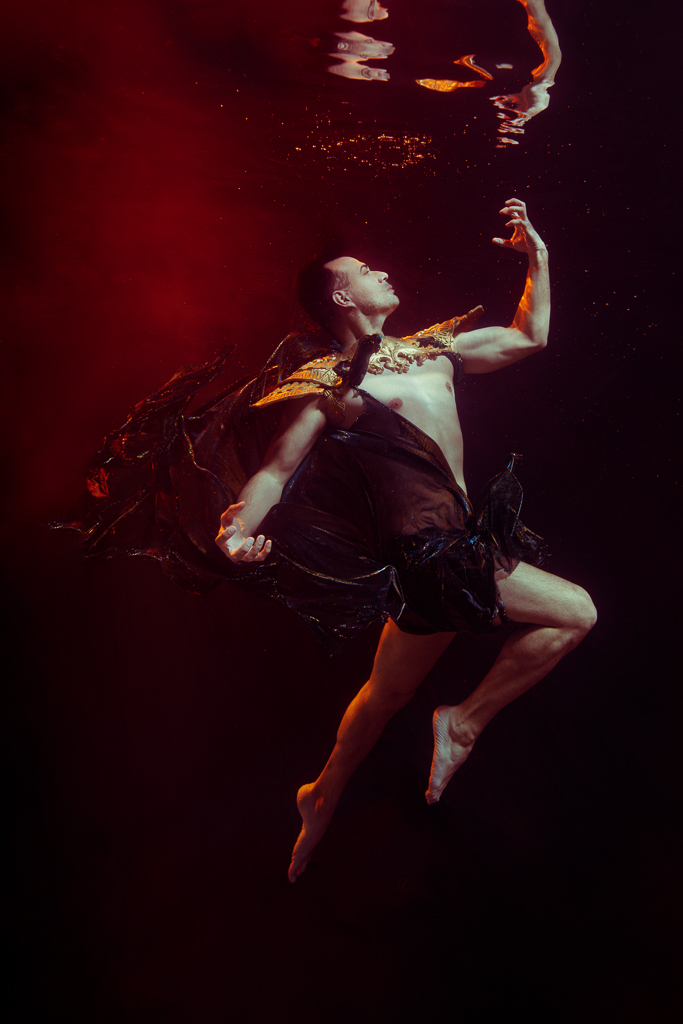 Location
---
The workshop will be held at my custom build underwater studio, in Long Beach California. The studio is outdoor with loads of space so we will be able to socially distance and lots of shade to keep out of the sun.
The studio is 20 mins from Long Beach Airport (LGB), 45mins from Los Angeles Airport (LAX), and a variety of accommodation options in the area. It's also only 20 mins from the Catalina Island Ferry if you wanted to hit the island.
Requirements
---
A $400 non-refundable deposit will be required to secure your spot at the workshop.
All attendees must be in good health and able to swim in at least 9ft of water.
All attendees must be fully vaccinated at least 2 weeks before the workshop, submit a negative covid test within 2 days of the workshop, and we will be following Los Angeles Covid 19 safety guidelines as per the date of the workshops.
Investment
---
Day 1: Underwater Photography Techniques – $989
Day 2: Advanced Lighting Techniques – $1499
Day 3: Image Review/Post Production – $599

Full 3 Day Package – $2799

The workshop is split into 3 distinct days, and you're welcome to book 1 or all 3 but each day is limited to 4 attendees maximum.
How To Book
---
Please fill out the form with your details, which days you are interested in, and current underwater photography level so we can cater the workshop to your needs.
Frequently Asked Questions
Is the location indoor or outdoor?
The pool is outdoor with plenty of shade, and our classroom will be either indoor or outdoor depending on the workshop day and the weather.
Why is the Studio Lighting Day more expensive?
The Lighting day is the most advance, and includes techniques that Brett has developed over many years – we feel it has the most value in terms of taking your images to the next level.
Do I need to bring any lighting equipment?
Only if you want to learn using your own equipment. We will be setting up lighting for everyone in the class, but if you have lights on your housing you'd like to use please let us know.
Do I need to know how to swim?
Yes! As an underwater photographer you're the one who needs to guide the subjects, so if you can't swim it's very hard to be able to show them what to do. In saying that, if you'd like to join the workshop an stay out of the water you're more than welcome.
Will I own the images taken at the workshop?
Yes, we will have the models sign a release for the images you take at the workshop and you will have the right to use the images for your portfolio and self promotion. No commercial usage is allowed.
Can I just book one day?
Absolutely! The course has been designed to cater to different levels of experience, with the first day aimed at beginners, the second for people looking to upskill their lighting, and the final for those just wanting to learn retouching techniques.
What is the closest airport?
Long Beach Airport (LBC) is only 20 mins from the studio and Los Angeles International (LAX) is around 45 mins.
Do I need to bring my camera?
If you already have an underwater housing for your camera and you would like to learn using that then please feel free to bring it, otherwise we will have shared cameras that can be used. For the strobe and advanced lighting courses we do require a housing that has an ikelite/nikonos sync port, or an Outex housing with a sync cable.
When does the deposit need to be paid?
The deposit needs to be paid as soon as you wish to secure your spot at the workshop – we cannot guarantee your space until it is paid.
Can I bring scuba gear?
No, as space is limited at the studio we don't want to have people with bulky gear. We will be freediving for the workshop, but please bring a weight belt and weights if you need them.
Will there be COVID-19 rules?
Yes, we will be following the current guidelines as set out by California at the time of the workshop. This may include social distancing and mask wearing, and we will be requiring all attendees be fully vaccinated at least 2 weeks before the workshop.
Can I use the images in my portfolio?
Of course, we hope you will come away with some images you're proud of, but we would also say that this course is more geared towards teaching you the skills to create your own images – rather than setting up scenes for you to just click a shutter – where's the fun in that?
About Brett Stanley
---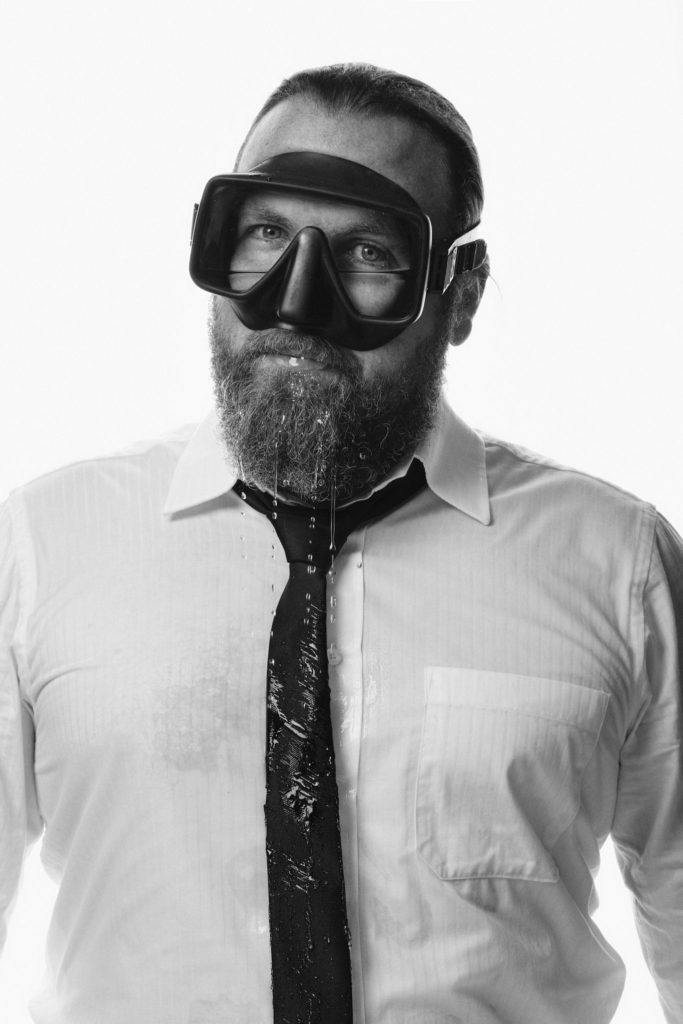 Brett Stanley is an internationally recognised, award winning underwater portrait photographer and cinematographer based in Long Beach, California. His unique approach to photographing people underwater over the past 8 years has solidified him as one of the leaders in this niche genre and his image style is instantly recognisable.
After Brett's Underwater Pole Dance series went viral in 2015 he has been innovating the techniques of underwater portrait photography, and by building underwater sets he's been pushing what is capable below the surface.
As a teacher, Brett has years of experience and problem solving to share with his students. His obsession with everything underwater drives him to share as much as he can with those he's mentoring and he loves seeing other's success in this realm.
Brett is also the host of The Underwater Podcast, and editor of Waterproof Magazine.
Testimonials
---
Attending this workshop has been on my list of things to do for a while. I was finally able to go and had a great time. Teaching style was great and lots of hands on. If you have a chance to go definitely take it!

Rajiv C
I followed Brett's advice in every way while in Maui! Thank you, Brett, for sharing all that knowledge! Without it, I wouldn't have dreamed to attempt doing this on my own.

Breanna C
Brett has a passion for this industry and truly seems to enjoy the teaching aspect just as much as any other part. He presents himself as confident while avoiding coming across as arrogant and is able to communicate concepts to various experience levels. From my experience, one of the most valuable aspects of Brett's mentoring sessions is that he leaves you with clear, actionable steps to take.

Andrew S
Talking with Brett is always a wonderful experience! Whether we're chatting about creative feedback or the business of photography, he always has valuable insight to share along with a warm and welcoming demeanor. It's a joy to know a fellow artist who values creative collaboration as much as I do!

Justin L
Being a young guppie in the large ocean of needed knowledge to be a good underwater photographer, Brett helped my work go from 0 to 10000 in just one session of learning. My very first paid session was extremely nerve-racking, but Brett prepared me beautifully, and I killed the session using his advice!

Taylor R
Workshop Gallery
---